Welcome to another exciting program of Hope For You's Community Health and Family Fair! We are thrilled to invite you to a day filled with health, happiness, and a strong sense of community. This event is organized by the incredible non-profit organization, Hope For You, which is dedicated to improving the lives of individuals and families. Let's dive into the wonderful initiatives and activities planned for the fair.
Hope For You is dedicated to improving the lives of individuals and families.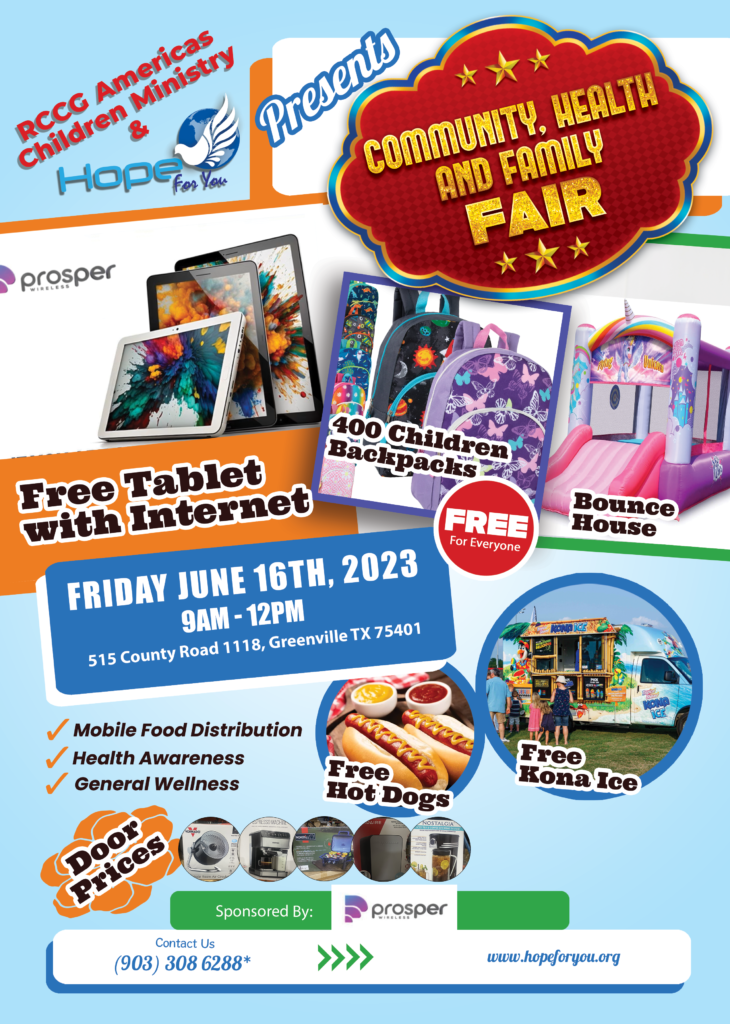 Health Screenings and Consultations: Your well-being is our top priority! At the Community Health and Family Fair, we have partnered with local healthcare professionals to provide free health screenings and consultations. From blood pressure checks to cholesterol screenings, take advantage of this opportunity to assess your health and receive valuable advice from experts. Our goal is to empower individuals to take control of their health and make informed decisions.
Educational Workshops: Knowledge is power! Hope For You believes in promoting health education and awareness. Throughout the fair, we will be hosting a series of educational workshops covering a wide range of topics. Learn about healthy eating habits, the importance of exercise, stress management techniques, and much more. These workshops will equip you with valuable insights and practical tips to lead a healthier lifestyle.
Children's Corner: We haven't forgotten about the little ones! Hope For You recognizes the importance of instilling healthy habits in children from a young age. Our dedicated Children's Corner offers a range of exciting activities, including face painting, games, and interactive storytelling sessions. We aim to make health education fun and accessible for children, ensuring they grow up with a strong foundation for a healthy future.
Free Tablets: In addition to the exciting lineup of health and wellness activities, Hope For You's Community Health and Family Fair has an extraordinary surprise in store for attendees. As a part of our commitment to promoting digital inclusion and access to education, we will be giving out free tablets to eligible participants. These tablets serve as a valuable tool for individuals and families to connect with essential resources, access educational content, and stay connected with their communities. By providing free tablets, we aim to bridge the digital divide and empower individuals to embrace the benefits of technology, opening doors to endless opportunities for personal and educational growth. Don't miss this incredible chance to receive a free tablet and embark on a journey of empowerment and knowledge.
Back to School Backpacks: Hope For You's commitment to empowering and supporting the community extends beyond health and wellness. At the Community Health and Family Fair, we are delighted to announce that we will be giving out 400 back-to-school backpacks to deserving students. We understand the financial challenges families often face when preparing for the new school year, and our goal is to alleviate some of that burden. These backpacks will be filled with essential school supplies, empowering students to start their academic journey with confidence and enthusiasm. By providing these backpacks, Hope For You aims to ensure that every child has access to the tools they need to succeed in their education. Join us at the fair and help us make a difference in the lives of these students as they embark on a new school year filled with possibilities.
Something for Everyone: In addition to the fantastic health and educational initiatives at Hope For You's Community Health and Family Fair, we have some exciting additional offerings that will make the event even more memorable. Get ready to jump, slide, and bounce at our inflatable bounce playground, providing endless fun for kids of all ages. Watch as laughter fills the air and children delight in the excitement of these colorful attractions. And what better way to cool off on a warm day than with a refreshing treat? Enjoy a complimentary Kona ice, offering a variety of delicious flavors to satisfy your taste buds and keep you refreshed throughout the event. As if that wasn't enough, we'll be serving up mouthwatering hot dogs, free of charge, to ensure everyone has the energy to fully enjoy the fair. Plus, don't forget to participate in our door prize giveaways, where you'll have the chance to win exciting prizes and take home some amazing goodies. These additional offerings are our way of saying thank you for joining us and making the Community Health and Family Fair a truly unforgettable experience for all.
Join us at the Hope For You Community Health and Family Fair for a day of empowerment, education, and enjoyment. This event is a testament to our commitment to improving the lives of individuals and families. Take advantage of the free health screenings, engage in informative workshops, participate in fun fitness activities, and explore the wealth of resources available. Let's come together as a community and pave the way for a healthier and happier future. We can't wait to see you there!
Remember, together we can create a world where health and happiness thrive. See you at the Community Health and Family Fair!